Together We Will Exceed Expectations
K-Tec Systems has a unique collaborative team culture built on the idea that everyone, from the executive to the operational staff, is in it together to value our corporate culture and commitments. At K-Tec Systems, we are all able to use our talents to create cost saving solutions without compromising quality while supporting a high level of productivity. In our company, innovation and growth are strongly supported by all. We are grateful for the opportunity to partner with you and want your  experience in working with us to exceed your expectations.
---
President & CEO
Cathy Koch
"She believed she could, and so she did."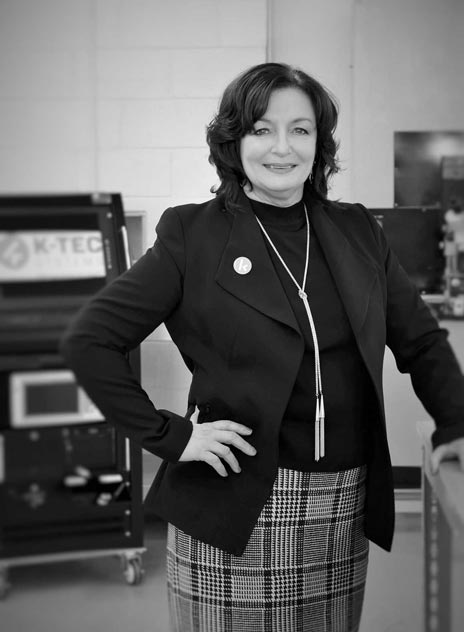 When Cathy returned to her job after the birth of her daughter, she was told her position was no longer available. Rather than fight, she went to work for the company's top competitor. She says it was the best thing that ever happened to her. It didn't take long before Cathy started her own company, K-Tec Systems. Cathy has over 35 years of experience in this industry. With K-Tec Systems she has been a reliable source to the automotive, aerospace, food and chemical industries for over 27 years.
Cathy has gained her experience from her customers. Visiting them in their plant, watching them work, helping them with the technical challenges they face has led her to a better understanding of their processes. She also proved her ability to find creative solutions to help them manufacture their products.
Beyond her expertise and knowledge, her loyalty, dedication and resilience capacity made her the right leader to compete against larger competitors.
Cathy is fully committed to reinvigorating the importance of quality over price and accurate test measurements. To give this new energy and raise the expectations for her company, Cathy envisions a culture that is based on creativity and a healthy workspace to attract and retain a talented workforce.
---
OUR HOME TEAM
Mike Martin – VP Sales
"High expectations are the key to everything."

Mike has enjoyed being recognized as an accomplished sales and marketing leader with domestic and international success in complex technology sectors. These areas have included technical representation of machine systems, engineering and design software, managing manufacturing processes and systems.
These roles involved leading teams in complex sales cycles in diverse technology environments. Mike has consistently been recognized for business acumen, leadership, and the ability to provide a highly performing organization.  He enjoys working with customers to solve their difficult challenges and deliver cost effective industrial solutions.
In the past, Mike has sailed around the state of Michigan. He notably competed and won the famous Mackinaw Race.
Karine Petit – Manager of Strategic Initiatives
 "Success is something earned. It comes only to those
who are dedicated and committed to their goals."

Karine is the Presidents's "right hand".  She arrived from Paris with her family 3 years ago. She is a pragmatic, reliable and enthusiastic senior-level marketing & communication expert with high standards and strong people skills who thrived in small & medium-scale businesses and non-profit/government related organizations, and loved driving them to success.
Her 15 years of expertise in USA, Canada, and France, include strategy planning, rebranding,  press & public relations, special events, executive coaching, edition, content development, graphic design, and digital marketing. Her reliability, work ethic, and dedication have made her successful in dealing with a diverse audience and especially executive management. She enjoys new challenges. Her organizational, creative, multi-tasking, and adaptative abilities have helped taking K-Tec Systems to the next level of its growth.
Karine rolls out the same strengths when indulging in her passion for adventure. She loves exploring the world with her Nikon camera, to meet different cultures, try new gastronomy, and discover amazing places. No wonder one of her favorite book is " Thousand places to see before you die".
Sergio Correa – Operations Manager
Omar EL-Q. – Manufacturing Engineering Manager
"Intelligence is the ability to adapt to change."
Omar joined K-Tec Systems in September 2017 as Manufacturing Engineering Manager, he has diverse engineering background working at different companies, and spent early career years at automotive racing where he developed his sense of urgency in order to be the best he can be. Omar gained his experience working at automotive industry and managing many 24/7 operations that include manufacturing and production.
Omar earned his Bachelor's Degree in Mechanical Engineering from Philadelphia University, and his Master's in Mechanical Engineering (Design & Manufacturing) from Wayne State University. He has won over 20 design and engineering awards at Robotics and Auto Racing in the past 10 years.
Omar is fully committed to take K-Tec Systems to the next level through innovation in engineering and design, his team fully dedicated to adapt new technologies and be one step ahead of the competition.
Gerard Jarboe – Chief Financial Officer